Patrick Wolf-Farré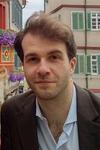 Lector Germanic Languages & Literatures
Address:
100 Wall St, New Haven, CT 06511-6607
PhD University of Heidelberg, Germany, 2017
Patrick Wolf-Farré joined the German Department in 2016 as a lector. He teaches the intensive course as well as regular German courses. Asides from foreign language teaching, his main areas of research are within German and Spanish Sociolinguistics, especially Linguistic Biographies, Languages in Contact, Languages and Media, Linguistic Landscapes.
Books and Co-Edited Volumes
Sprache und Selbstverständnis der Deutschchilenen. Eine sprach-biografische Analyse. Heidelberg: Winter (2017).
Gegenwärtige Sprachkontakte im Kontext der Migration, co-edited with Stefaniya Ptashnyk, Ronny Beckert, and Matthias Wolny. Heidelberg: Winter (2016).
Article Publicatins
"The German-Chileans", in: Hans C. Boas, H. C., Deumert, A., Louden, M., & Peter Maitz (eds.): German varieties worldwide. Oxford: University (forthcoming)
 "Der dritte Weg – Zur Entwicklung der ehemaligen deutschen Sprachinsel in Südchile", in: Ptashnyk, Stefaniya et al. (eds.): Gegenwärtige Sprachkontakte im Kontext der Migration. Heidelberg: Winter (2016)
"An den Ufern der Inseln – Zu aktuellen Ansätzen der germanistischen Sprachinselforschung", in: Dituria 9 (2013).
Reviews
Deutscher, Guy: "Im Spiegel der Sprache. Warum die Welt in anderen Sprachen anders aussieht." Wissenschaftlicher Literaturanzeiger online (WLA) (2015).
Recent Talks and Conference Participations
"Living between two languages and cultures: The German-Chileans". Moving texts, Aveiro, Portugal. July 13, 2017.
"New approaches to 'language islands'. Case examples of the German‐Chileans". Germanic Linguistics Annual Conference 23. University of Texas at Austin. April 20, 2017.
"Sprache und Identität der deutschstämmigen Chilenen". EZS-Forum, Universität Heidelberg. January 10, 2017.
"Germans in the Americas – Challenges and chances of a pan-continental perspective". 40th annual SGAS Symposium, San Antonio, Texas. April 29, 2016
"What is a 'German-Chilean'? Studying identity through Language Biographies". Guest lecture at the German Department, University of Texas at Austin. April 26, 2016.
"German(s) in Chile: history, situation and possible linguistic approaches". Universidad Austral de Chile, Valdivia, Chile. Oktober 6, 2015.
"Von Chiledeutschen zu Deutschchilenen – Sprachwissen­schaftliche Untersuchung der deutschstämmigen Minderheit Chiles". 4. Nachwuchstagung der Arbeitsgemeinschaft Deutsche Lateinamerikaforschung (ADLAF), FU Berlin. June 26, 2015.
"Alternativen zum Sprachinseltod – über die deutschsprachige Minderheit in Südchile". German abroad – Perspektiven der Variationslinguistik, Sprachkontakt- und Mehrsprachigkeits-forschung, 4.-5. Juli 2014, Universität Wien.
"The communicative approach in foreign language teaching". By invitation of the DAAD, Universidad Centroamericana in Managua, Nicaragua. May 23, 2014.
"The German-speaking Minority in Southern Chile – a Sprach­insel (Language-island)? " 38th annual SGAS Symposium, Milwaukee, WI. April 11, 2014.
15. März 2014, "Cross-cultural Voice Chats" (with Dr. Theresa Schenker). NEALLT 2014, Swarthmore College, PA. March 15, 2014.