Rüdiger Campe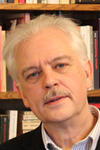 Professor Germanic Language and Literature and Department Chair
Address:
100 Wall St, New Haven, CT 06511-6607
---
In 2015/2016, Rudiger Campe is teaching a course on the "Novel of the Institution" in the fall, and in the spring he is co-teaching, with Nicola Suthor, "Passions 1600-1800," and, with Florian Fuchs, a course on text and image and their interpretation. He continues working on a book-length study on 'communication' and 'empire' in Goethe's "Conversations of German Refugees" co-authored with Uwe Hebekus.
Selected recent Academic Awards and Achievements:            
2014 Presentation of the Luebeck Lecture at the Ohio State University
2013 Presentation of the Szondi-Lecture, FU Berlin
2012-2014 Fellow, Whitney Humanities Center
2011 Humboldt Research Award
2007 Fellow, Wissenschaftskolleg zu Berlin
Positions:
2007- Professor, Yale University
2001-2007 Professor, Johns Hopkins University
Latest Books and Co-Edited Volumes:
Latest Article Publications:
Rhetoric's Flirtation with Literature. From Gorgias to Aristotle: The Epideictic Genre. In  D. Hoffmann-Schwartz, B. N. Nagel, L. S. Stone (Ed.): Flirtations. Rhetoric and Aesthetics this Side of Seduction (Fordham, 2015), 37-50.
Kritik der Poetik, Theorie der Ästhetik. Zu einer Konstellation aus der Vorgeschichte des modernen Literaturwissens. In A. Allerkamp, P. V. Orozco, Sophie Witt (Ed.): Gegen/Stand der Kritik (diaphanes, 2015), 163-179.
Von Fall zu Fall. Goethes Werther, Büchners "Lenz". In I. Mülder-Bach, M. Ott (Ed.): Was der Fall ist. Casus und Laspus (Fink, 2014), 33-55.
Vor dem Bild. Clemens Brentanos, Achim von Arnims und Heinrich von Kleists Empfindungen vor Friedrichs Seelandschaft. In L. Bader, G. Didi-Huberman, J. Grave (Ed.): Sprechen über Bilder. Sprechen in Bildern (Deutscher Kunstverlag, 2014), 51-71.
Latest Papers, Presentations, Reader's Reports and Reviews:
April 2015. Kleist and the Prose of the World, ACLA, Panel: 'Popular, Prose, Prophane.'
April 2015. The Fable Continued. The Palace of the Many Worlds in Leibniz's Theodicy, University of Washington Seattle.
Mai 2015. Kleists Verfahren der Aktualität, University of Bonn.
July 2015. Kants Krise und Kleists Verfahren, University of Erfurt.
July 2015. Work on the 'Scene of Writing': Old and New, Workshop Unversity of Erfurt.
complete list of publications, July 2014 (PDF)