Rüdiger Campe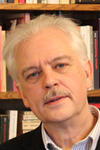 Professor Germanic Language and Literature and Department Chair
Address:
100 Wall St, New Haven, CT 06511-6607
---
In 2014/2015, Rudiger Campe is co-teaching the Mellon Concentration Year "Circa 1900" together with Howard Bloch and Katie Trumpener. Currently, he is finishing a book-length study on 'communication' and 'empire' in Goethe's "Conversations of German Refugees" co-authored with Uwe Hebekus.
Selected recent Academic Awards and Achievements:            
2014 Presentation of the Luebeck Lecture at the Ohio State University

2013 Presentation of the

Szondi-Lecture

,

FU

Berlin

2012-2014 Fellow, Whitney Humanities Center
2011 Humboldt Research Award
2007 Fellow, Wissenschaftskolleg zu Berlin
Positions:
Full Professor, Yale University
2001-2007 Professor, Johns Hopkins University
Latest Books and Co-Edited Volumes:
Latest Article Publications:
"

Prognostisches

Präsenz

. Die

Zeitform

des

probabilistischen

Denkens

und

ihre

Bedeutung

im

modernen

Roman." In

Weidner

,

Willer

,

ed

.,

Prophetie

und

Prognostik

(Fink, 2013).
Latest Papers, Presentations, Reader's Reports and Reviews:
July 2014. "Rhetorik der Evidenz." Free University Berlin, Department History of Art, Research Group BildEvidenz.

June 2014. "Baumgartens

Ästhetik

: Metaphysik und techne." Conference "Baumgartens Epoche," Europa-Universität 

Viadrina.

May 2014.

"Implementieren

. Das

Grundverfahren

in

Kittlers 

Kulturtheorie." Vienna University, German Department.

May 2014.

"Souveränität

oder

Allegorie

.

Zur

Phänomenologie

der

allegorischen

Einstellung

in Walter

Benjamins

Trauerspielbuch."

DFG-Symposium

"Allegorie"

, Villa

Vigoni

,

Menaggio

.

March 2014. "Body and Time. Thomas Mann's Magic Mountain." The Luebeck Lecture, Ohio State University.

 
complete list of publications, July 2014 (PDF)