Rüdiger Campe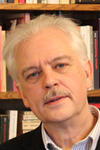 Professor German Language and Literature and Department Chair
Address:
100 Wall St, New Haven, CT 06511-6607
---
In the fall 2013/2014 academic year, Rudiger Campe will be on leave; in the spring he is teaching the Shulman Seminar at the Whitney Humanities Center on 'Evidence in Science and the Humanities.' Currently, he is working on a book on 'communication' and 'empire' in Goethe's "Conversations of German Refugees" to be co-authored with Uwe Hebekus.
Selected recent Academic Awards and Achievements:            
2013 Presentation of the Szondi-Lecture, FU Berlin
2012-2013 Fellow, Whitney Humanities Center
2011 Humboldt Research Award
2007 Fellow, Wissenschaftskolleg zu Berlin
2002 Aby Warburg Resarch Award
Positions:
Full Professor, Yale University
2001-2007 Professor, Johns Hopkins University
Latest Books and Co-Edited Volumes:
Re-Thinking Emotion. Exteriority and Interiority, co-edited with Julia Weber (forthcoming 2014).
The Game of Probability. Literature and Calculation from Pascal to Kleist, transl. Ellwood Wiggins (Stanford, 2012).
Hans Blumenberg, For Example, co-edited with Kirk Wetters (Yale) and Paul Fleming (Cornell) for Telos (2012).
Penthesileas Versprechen. Examplarische Studien über die literarische Referenz (Rombach Verlag, 2008).
Gesetz. Ironie. Festschrift für Manfred Schneider (co-edited with Michael Niehaus, transcript, 2005).
Latest Article Publications
"Prognostisches Präsenz. Die Zeitform des probabilistischen Denkens und ihre Bedeutung im modernen Roman." In Weidner, Willer, ed., Prophetie und Prognostik (Fink, 2013).
"Verfahren. Kleists Allmähliche Verfertigung der Gedanken beim Reden." In Sprache und Literatur, 2012.
" 'Unsere kleinen blinden Fertigkeiten': Zur Entstehung des Wissens und zum Verfahren des Schreibens." In Lichtenberg-Jahrbuch, 2012.
"Body and Time. Thomas Mann's Magic Mountain." In Boernchen a.o., ed., Thomas Mann. Neue kulturwissenschaftliche Lektüren (Fink, 2012).
"Ereignis der Wirklichkeit. Über Erzählung und Probabilität bei Balzac (Ferragus) und Poe (Marie Roget)." In Bies, Gamper, ed., Literatur und Nicht-Wissen (diaphanes, 2012).
Latest Papers, Presentations, Reader's Reports and Reviews:
July 2013: "Problem der Prosa, Form des Romans. Friedrich Schlegels Gespräch über die Poesie." Conference "Farben der Prosa," Siemens Stiftung, München.
July 2013: "Kants Krise und Kleists Verfahren." Szondi-Institute for Comparative Literature, FU Berlin.
June 2013: "Die Form der Person im Roman." Conference "Formierungen," Research Group "Normative Orders", Goethe University, Frankfurt/M.
May 2013: "Rhetoric in the Age of the World Picture. Aesthetics in G.A. Baumgarten." Conference "Rhetoric and the Possible," Center of Global Culture and Communication, Northwestern
March 2013: "Kittler's Humanities. On Implementation." Conference "The Sirens Go Silent. A Commemorative Colloquium on Friedrich Kittler." Deutsches Haus, NYU