Niklas Barth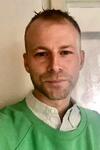 Niklas Barth is Assistant Professor (Akademischer Rat a.Z.) at the Institute for Sociology at Ludwig-Maximilians-Universität in Munich. From October 2020 until March 2021, he was Junior Researcher in Residence at the LMU Center for Advanced Studies. He received his Ph.D. with a thesis on how society can be understood as mediality in 2019. He has contributed to various DFG research projects (German Research Foundation) as junior and postdoc researcher. Niklas Barth is interested in media and social theory, platform studies and digital publics, thanatology, sociology of medicine, cultural sociology as well as qualitative research. In his second book, he examines forms and functions of tactful communication. This project assembles a media theory of tactful communication, media archaeological studies on the semantics of tact and empirical case studies on tact and tactlessness on social media platforms and in palliative care contexts.
SCHOLARLY PUBLICATIONS
MONOGRAPHS
2020
Gesellschaft als Medialität. Studien zu einer funktionalistischen Medientheorie, Bielefeld: transcript.
JOURNAL ARTICLES (peer-reviewed) (selection)
2022
"Organized Rituals – Ritualized Reflection. On mourning culture in palliative  care units and hospices," , in: Mortality (in publication). (with Katharina Mayr and Dr.  Andreas Walker)
2019
"Die Stärke schwacher Verfahren. Zur verfahrensförmigen Entdramatisierung von Perspektivendifferenzen", in: Zeitschrift für Soziologie (ZfS) 48(3) 190-208. (with Prof. Dr. Armin Nassehi and Dr. Irmhild Saake)
2016
"Kalte Vertrautheiten. Private Kommunikation auf der Social Network Site Facebook", in: Berliner Journal für Soziologie 25 (4), 459-489.
"Die Medialität der Liste. Digitale Infrastrukturen der Kommunikation", in: Kalthoff, Herbert/Cress, Torsten/Röhl, Tobias (eds.): Materialität.
Herausforderungen für die Sozial- und Kulturwissenschaften, München: Wilhelm Fink, 343-359. (with Prof. Dr. Elke Wagner)
2015
"René Polleschs Theater der Limitierung. Eine soziologische Lesart", in: Sociologia Internationalis 53 (2), 235-257.