Tilman Venzl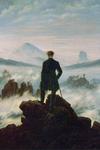 Postdoctoral Visiting Fellow
---
Tilman works as an "Akademischer Mitarbeiter" (Assistant Professor/Postdoc) of German literature at the University of Heidelberg, Germany (personal website) and joined Yale University as a Feodor Lynen Research Fellow in early 2019. His main research interests concentrate on the interdependence of literature and military, on the history of the sociology of literature, and on political literature in general. During his two year stay at Yale he is focusing on the aesthetic and publication strategies of selected romantic authors in the aftermath of the Napoleonic wars. Besides, he is preparing a research project dedicated to the interrelation of democracy and literature in the 19th century.
His dissertation, "The soldiers are coming". Studies on the military drama of the 18th century ("Itzt kommen die Soldaten". Studien zum deutschsprachigen Militärdrama des 18. Jahrhunderts), has been published with Vittorio Klostermann in 2019. Furthermore, he co-edited the book Literature and Recognition. Interrelations and Perspectives (Literatur und Anerkennung. Wechselwirkungen und Perspektiven) with Andrea Albrecht and Moritz Schramm, published in 2017.
Tilman's work has appeared inter alia in the Deutsche Vierteljahrsschrift für Literaturwissenschaft und Geistesgeschichte, Germanisch-Romanische Monatsschrift, Internationales Archiv für Sozialgeschichte der deutschen Literatur, Jahrbuch der Deutschen Schillergesellschaft, Monatshefte für deutschsprachige Literatur und Kultur, and Scientia Poetica. It encompasses the work of Annette von Droste-Hülfshoff, Johann Wolfgang Goethe, Jakob Michael Reinhold Lenz, Gotthold Ephraim Lessing, Lotte Paepcke, Ludwig Tieck, Carl Zuckmayer, and others.
He is the recipient of various scholarships, most notably by the Alexander von Humboldt Foundation, the German Academic Scholarship Foundation, and the Thyssen Foundation. His dissertation was granted the Ravicini Award 2018.