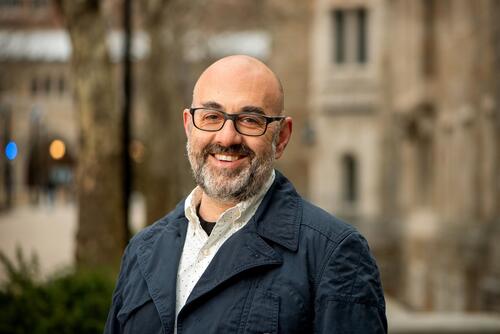 Message sent from Peter Salovey on Friday, 22 April:
Dear Members of the Jonathan Edwards College Community,
We are delighted to announce the appointment of Paul North, professor of Germanic languages and literatures, as the next Head of Jonathan Edwards College for a five-year term, effective July 1, 2022.
A renowned educator and scholar in European literature and philosophy, Professor North is an expert at bringing together traditions of writing and thought to critique the concepts that organize society. His work informs our understanding of how European imperialism, colonialism, and capitalism have shaped the world. Drawing on over two decades of experience in teaching, mentoring, scholarship, and research, he demonstrates to students how a shift in perspective can create the mental and emotional distance needed to confront complex challenges today. He also encourages students to develop their own critical positions on histories and concepts that influence their lives.
Professor North has published dozens of articles and book chapters and three critically acclaimed books: Bizarre Privileged Items in the Universe: The Logic of Likeness, The Yield: Kafka's Atheological Reformation, and The Problem of Distraction. Honored and awarded by numerous organizations, Professor North serves on the editorial board of the Diacritics journal, as series editor at Fordham University Press, as a reviewer for numerous publishers, and in leadership roles in many areas at Yale, including in the Executive Committee of the Humanities Program and the Faculty of Arts and Sciences Senate. His research has been supported by the Andrew W. Mellon Foundation, Social Science and Humanities Research Council of Canada, and other organizations.
Professor North grew up in Westchester County, New York. He earned his B.A. in English Literature from SUNY Binghamton, M.A. in Comparative Literature from the CUNY Graduate Center, and Ph.D. in Comparative Literary Studies from Northwestern University. When he was a graduate student, he met his partner, Carolina Baffi, while conducting research in Buenos Aires, Argentina, where she spent her formative years.
Dr. Baffi will serve as the associate head of college. She earned her Ph.D. in Latin American Literatures and Cultures from Columbia University and is a lector in the Department of Spanish and Portuguese. Her area of specialty is twentieth-century Latin American literature.  
Joining them are their two children: Theo (twelve years old) and Callie (eight years old). Theo and Callie are over the moon about becoming part of the JE community. They are looking forward to having lots of big brothers and sisters. Deeply interested in computers, Theo is excited about finding friends who can talk technical specs and programming, while Callie, who is into taekwondo, is looking for sparring partners. They will be bringing their cats, Archie and Lou, who are very affectionate and hoping to get lots of attention.
Professor North, Dr. Baffi, Theo, and Callie are voracious readers and are eager to discuss favorite books and authors with the JE community. They also love to listen to music, but because each of them has distinct—and opposing—tastes, they are excited about the prospect of finding like-minded people at JE. Although they may battle over the radio, they all have an appreciation for home-cooked meals. Professor North, especially, enjoys spending time in the kitchen, and he welcomes opportunities to share his recipes and learn new ones. All four members of the family are looking forward to joining JE's legendary close community and to being introduced to its traditions.
We are grateful to Head of College Mark Saltzman and Associate Head of College Christina Pavlak for their leadership, outstanding service to the community, and extraordinary commitment to the students. We also thank the members of the search committee for their thorough and thoughtful deliberations: Themis Kyriakides, professor of pathology and biomedical engineering (chair); Sybil Alexandrov, senior lector II in Spanish and Portuguese; Sharon Chekijian, assistant professor of emergency medicine; Martha Munoz, assistant professor of ecology and evolutionary biology; Nickolina Doran '22; Michael Bochkur Dratver '23; Allison Lee '25; Anna Martinelli-Parker '24; and Beza Tessema '24.
Please join us in welcoming Professor North, Dr. Baffi, Theo, and Callie to the JE community!