Rüdiger Campe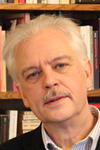 Alfred C. and Martha F. Mohr Professor of Germanic Languages & Literatures, Professor of Comparative Literature
Address:
100 Wall St, New Haven, CT 06511-6607
---
In the fall of 2018, Rüdiger Campe is finishing work on a volume of collected essays on "Parrhesia," free speech in early modernity. He teaches a graduate course on Musil's Man Without Qualities and an undergraduate course on Kafka and the Philosophers. In the spring 2019, he is to co-teach a course with the title Being a Person, on personhood in law and literature, with Katrin Trüstedt.
Office Hours: Tuesdays 11:00 am - 12:00 pm or by appointment
Selected recent Academic Awards and Achievements:        
2016  Fellow, Internationales Forschungszentrum Kulturwissenschaften, Vienna    
2014 Presentation of the Luebeck Lecture at the Ohio State University
2013 Presentation of the Szondi-Lecture, FU Berlin
2012-2014 Fellow, Whitney Humanities Center
2011 Humboldt Research Award
Positions:
2016- Professor of Comparative Literature, Yale University
2007- Professor of German, Yale University
2001-2007 Professor of German, Johns Hopkins University
Latest Books and Co-Edited Volumes:
Latest Article Publications:
Kittler's Humanities: On Implementation, in J. Champlin, A. Pfannkuchen (ed.): The Technological Introject (Fordham UP 2018).
Entfremdung affirmieren, in Th. Khurana et al. (ed.), Negativität. Kunst – Recht – Politik (Frankfurt: Suhrkamp).
Der Mut des Klassizismus. Vom Verfahren, die Wahrheit zu sagen, in Schillers Don Karlos und Goethes Iphigenie, in Campe, Wessels (ed.), Bella Parrhesia.
Flucht und Fürsprache in Aischylos' Orestie, in B. Menke, J. Vogel: Flucht und Szene (Berlin: Theater der Zeit 2018).
"Die tiefste Bestätigung des Daseins der Dissonanz." Émile Boutroux und Georg Simmel in der Theorie des Romans, in R. Dannemann et al. (ed.): Hundert Jahre "transzendentale Obdachlosigkeit". Georg Lukács' Theorie des Romans neu gelesen, (Bielefeld: Aisthesis 2018).
Poetiken der Frühromantik, in Ralf Simons (ed.), Poetik und Poetizität (Boston: DeGruyter 2018).
Latest Papersand Presentations:
March 2018. The Scene in the Scene of Writing. On Ernst Mach's Self-Portrait. Deutsches Haus, NYU.
May 2018. The Art of Day-Dreaming. Workshop, University of Colorado, Boulder.
June 2018. The 'Scene of Writing' Revisited. The Center for the Study of Manuscriupt Cultures, Hamburg.
November 2018. Die Institution im Roman. Von Musils Törless zum Mann ohne Eigenschaften. Zurich Distinguished Lecture, The Art of Interpretation, Zurich University.
December 2018. Schlegel's Philosophy of Comedy (and Hegel's Philosophy of Tragedy) as Social Theories. Tel Aviv University.
complete list of publications, January 2019 (PDF)