Rüdiger Campe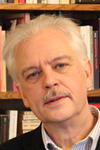 Alfred C. and Martha F. Mohr Professor of Germanic Languages & Literatures, Professor of Comparative Literature
Email: rudiger.campe@yale.edu
---
In 2021-2022, Rüdiger Campe is finishing a book length study on the German scientist and philosopher, author of the Sudelbücher (waste books) Georg Christoph Lichtenberg. He teaches a graduate course on Robert Musil and the Proseminar in Comparative Literature, and an undergraduate course on German Novels after 1945.
Office Hours: Mondays 10:30 am - 12:00 pm or by appointment
Selected recent Academic Awards and Achievements:        
2022  Fellow, Center for Advanced Studies, Hamburg, Imaginaria of Force
2016  Fellow, Internationales Forschungszentrum Kulturwissenschaften, Vienna    
2014 Presentation of the Luebeck Lecture at the Ohio State University
2013 Presentation of the Szondi-Lecture, FU Berlin
2012-2014 Fellow, Whitney Humanities Center
Positions:
2016- Professor of Comparative Literature, Yale University
2007- Professor of German, Yale University
2001-2007 Professor of German, Johns Hopkins University
Latest Books and Co-Edited Volumes:
Die Institution im Roman. Robert Musil (Würzburg 2020)
New Aufklärung/Enlightenment, special issue of Germanic Review 2020, co-ed. with Hans Adler
Representing Agency, special issue of Law and Literature, co-ed. with Katrin Trüstedt
Screen Genealogies. From Optical Device to Environmental Medium. Co-edited with Craig Buckley and Francesco Casetti (Amsterdam UP 2019)
Bella Parrhesia. Figur und Begriff der freien Rede in der frühen Neuzeit (Rombach 2018)
Latest Article Publications:
Actor, Orator, Person. The Representation of Passion and the Passion of Representation in Hobbes's Leviathan (Law and Literature 2020)
Die Zeit des Romans. Goethes Herrmann und Dorothea und Achillëis als Romanprojekte (Formen der Zeit, ed. C. Jany, R. Villinger)
"Ein Buch worin ich alles einschreibe". Lichtenbergs freie Rede über die Dinge im Sudelbuch (Lichtenberg Jahrbuch 2019)
"Schutz und Schirm:" Screening in German During Early Modern Times, in Screens Genealogies.
Die Hand im Spiel des physiologischen Realismus. Teil  I: Bischof Berkeley. Teil II: Professor Mach, in z.B. Zeitschrift zum Beispiel (2019, 2 and 3).
Büchners politische Komödien Dantons Tod und Leonce und Lena. Tragödie oder Komödie: Gattungen des Sozialen, in Athenäum 2019.
Latest Papers and Presentations:
October 2019. Implikation. Versuch einer Rekonstruktion von Blumenbergs Verfahren. ZfL Berlin.
July 2019. "Ein Buch in das ich alles einschreibe." Lichtenbergs freie Rede über die Dinge. Osnabrück, Lichtenberg Society.
July 2019. Franz Kafkas Das Schloss, Orson Welles' The Trial, und die Frage der Institution. TU Dortmund.
June 2019. Candide und Konsorten, Beste und schlechteste aller möglichen Welten bei Leibniz, Voltaire und Kleist. LMU Munich.
December 2018. Schlegel's Philosophy of Comedy (and Hegel's Philosophy of Tragedy) as Social Theories. Tel Aviv University.
complete list of publications, January 2020 (PDF)